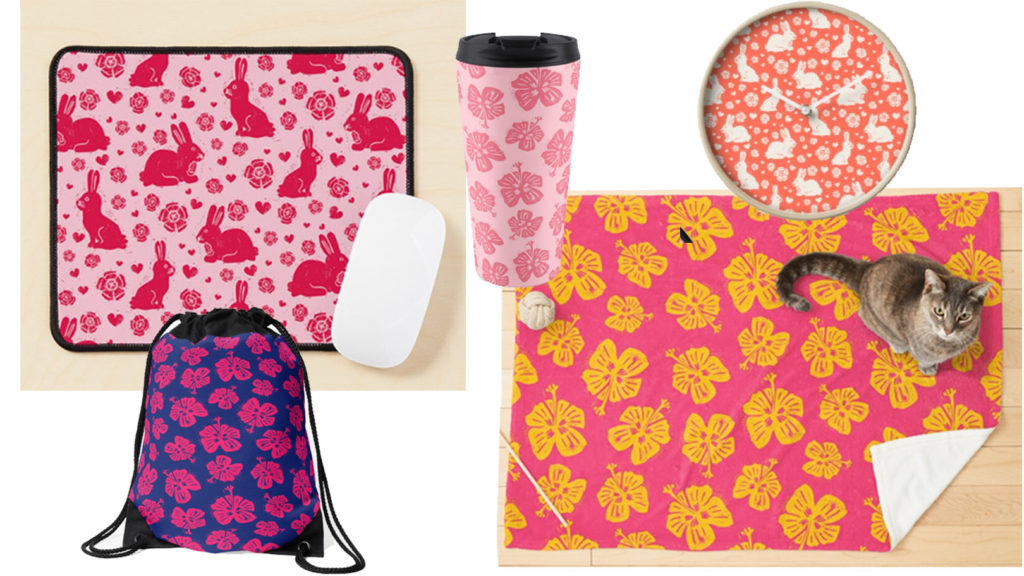 When I planned my "Degree in me" I gave myself 6 weeks for each subject. As you maybe already know block printing was my first subject and I dedicated this time to learning and practising all I can around this subject. You can read about the whole process in the posts here, here and here.
The first 6 weeks are over now and it's time for my final project! I try to bring together all I learned and produce something beautiful.
Final Project: ideas
First I wanted to print a tea towel with the blocks and some fabric paints. But the results were not to my liking.
But then, a spark of inspiration hit me – what if I digitalised my block prints? I whipped out my trusty iPad and used the Adobe Capture app to vectorise all of my block print elements. From there, I created a seamless pattern in Affinity Designer.
What's great about having a vectorised pattern is that I can easily recolour it and create different colour variations of the same design. And for the final touch, I decided to make a half-drop pattern, which was definitely a challenge for me!
Final outcome
I'm so thrilled with how my project turned out and couldn't wait to share it with the world. I uploaded my Linocut patterns to my Spoonflower and RedBubble shops.
Overall, my "Degree in me" project has been a journey of self-exploration and pushing my boundaries. I encourage you to try something new and challenge yourself in the same way – who knows what amazing things you'll create!
See a selection of the patterns and colourways in the gallery here:
Gallery